Situation
Induction Hardening improves the wear resistance and the fatigue limit of dynamically stressed parts. These mechanical properties are primarily determined by the Surface Hardness, the Hardening Depth and the Residual Stress Depth Profile. The Surface Hardness Depth (SHD) - or the thickness of the hardened layer - is essential for the quality of the Induction Hardening Process. Up to now, random samples using destructive methods were the only way to control the quality of hardening processes. Needless to say, the method was very costly and time-consuming.
Solution
In collaboration with the Fraunhofer Institute for Non-Destructive Testing (IZFP), Q NET has developed an ultrasonic method for fast and non-destructive case depth testing. We reduce the effort and the costs of testing and provide fast production control to ensure consistently high quality levels. The testing system is used for optimizing production parameters, reducing downtime after inductor changes, for fast production control and for quality management.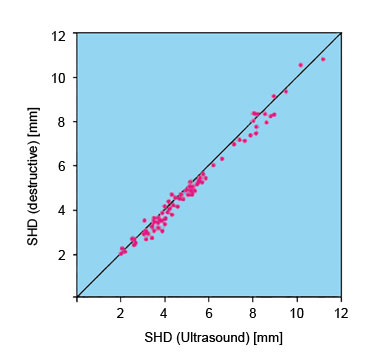 Correlation between destructive and non-destructive test
Testing Principle
The testing principle is based on the effect that the hardened layer is almost transparent to the ultrasonic waves while the non-hardened material scatters them back. The backscattering signal is received by the testing probe system, it is processed with IZFP testing electronics and is evaluated in a fully automated way. The results that are shown indicate the depth of the hardened material (SHD). Comparisons show that the results very much comply with the results of traditional destructive methods. The method is suited for testing SHD of > 1.5 mm.
Information about the method
Features
Extremely robust for industrial environment,
testing of complex geometries,
high testing precision,
line and circumferential scans,
display of exact measurement point,
measurement takes only seconds,
fast testing of large quantities,
testing device can be integrated into the production process,
with adequate sensor adjustment also radiuses can be tested,
device is portable and suitable for mobile use,
device is easy to adjust to the customer's needs.
Description
Ruggedized notebook for industrial use,
4 UT channels,
multiparameter sensor technology,
test frequency: 5-30 MHz,
battery- and mains-operated,
operating system: Windows 7, Windows 10,
modular hardware build-up,
Modular software build-up:
Planning, testing and data export. The use of databases throughout the whole process enables your company to access and organise the planning and testing data. With the help of the report generator, the client is able to generate master copies,
additional types of devices:
Stationary special testing machine; desktop version with scaleable hardware.